Level 4 autonomous tech is on its way into the mainstream, but will companies be able make money from it?

BY JAY RAMEY
JAN 6, 2023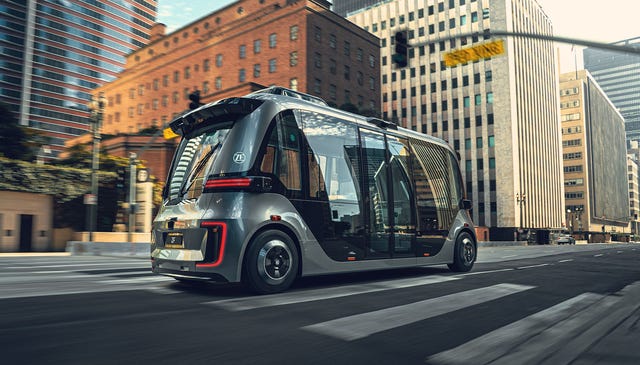 ZF
ZF unveils driverless shuttle bus with Level 4 autonomous tech that it plans to produce and operate in a partnership with mobility services provider Beep.
Versions of the shuttle will be able to operate in mixed traffic or in their own dedicated lanes, ZF says, carrying up to 22 passengers.
The shuttle buses will be powered by batteries between 50 and 100 kWh, and are designed to operate along fixed routes.
---
The Consumer Electronics Show has seen a number of working autonomous driving concepts over the years, in addition to quite a few lofty promises of robotaxis at the height of self-driving tech mania. Expectations of the imminent arrival of Level 5 everything have certainly cooled off after 2018, at least for companies other than Tesla, but now as Level 4 robotaxis begin to appear on the streets of West Coast cities attention is back on autonomous tech that just might become commonplace in a few years.
German supplier ZF used this year's CES to reveal a Level 4 shuttle it created along with mobility services provider Beep, aimed first and foremost at street environments where it will have a dedicated lane. What's more, the company plans to potentially build thousands of these driverless, Level 4 shuttles in the coming years.
Related Story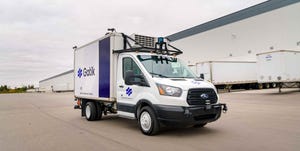 Gatik Brings Autonomous Delivery Trucks to Kansas
The all-electric shuttles feature lidar, camera, radar, and audio sensors, all part of ZF's Virtual Driver autonomous vehicle software that uses artificial intelligence. Planned to be powered by batteries between 50 and 100 kWh, the driverless shuttles will be able to carry up to 22 passengers with seating room for 15, and will be able to operate 24 hours a day if needed on pre-defined routes. One type of shuttle will be able to run in its own segregated lane, but another shuttle type will be able to operate in mixed traffic.
"The Virtual Driver replaces the human driver and thus makes the steering wheel and brake pedal superfluous," ZF explains. "The system is designed with redundancies so that the full functionality and operability of the vehicles are highly reliable."
ZF says the shuttles will initially have a maximum speed of just 25 mph, but another version will be able go twice as fast.
The second part of the equation is the deployment of shared mobility services, and that's where Beep comes in. The company will plan and manage autonomous shuttles for private and public communities, and has three years of experience managing autonomous vehicles of this type totaling over 100,000 road hours.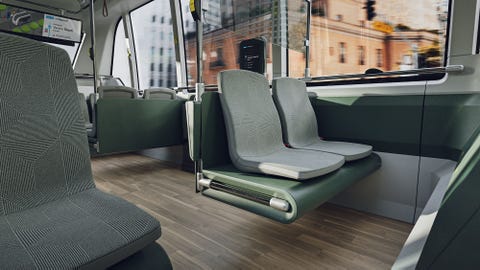 ZF indicates a shuttle of this type will be able to carry 22 people, operating along a fixed route.
ZF
"ZF's full suite of shuttle services, its US partner network, and its automotive-grade vehicle complement our turnkey mobility networks and autonomous services technology platform," said Joe Moye, Beep CEO.
If it feels like you've seen ZF's shuttle before, you probably have—the supplier has been active in this space for years. A number of other companies are working on similar concepts, also with Level 4 autonomy in mind just for this type of use case. Volkswagen plans Level 4 shuttles of this general layout as well and had built a similar prototype years ago—we've even been on VW and ZF shuttles as passengers. Other companies also want to field autonomous ride-pooling vans that follow a pre-determined route.
Related Story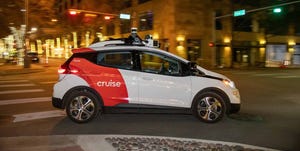 Cruise Robotaxis Roll Out in Tesla's Home Town
It appears that Level 4 tech has advanced to a point where the needed safety aspects of driverless shuttles of this type will be achieved in the near future. Right now, companies with Level 4 robotaxis and shuttles in development or in deployment primarily face the challenge of making such vehicles profitable to operate.
That's where it gets tricky as all companies with Level 4 vehicles in real-world operation, having spent hundreds of millions or more to develop the hardware and software, do not operate these fleets at a profit and aren't really sure when they'll be able to make money.
The cost of sensors has certainly decreased over the past decade and the hardware has become more compact, but cost-wise these are still expensive experiments that don't compete with a human driver in an old-fashioned taxi. Once we add the costs of a brand new EV platform to the mix with a unique exterior and interior, instead of adding sensors to an off-the-shelf crossover or van, it becomes even more expensive to field these vehicles.
It remains to be seen whether ZF and Beep will be able to successfully solve the business side of Level 4 autonomy, but at this point Level 4 robotaxis and shuttles are seeing their first real-world operational debuts.
Will completely driverless buses become a reality this decade, or is this future further on the horizon? Let us know in the comments below.